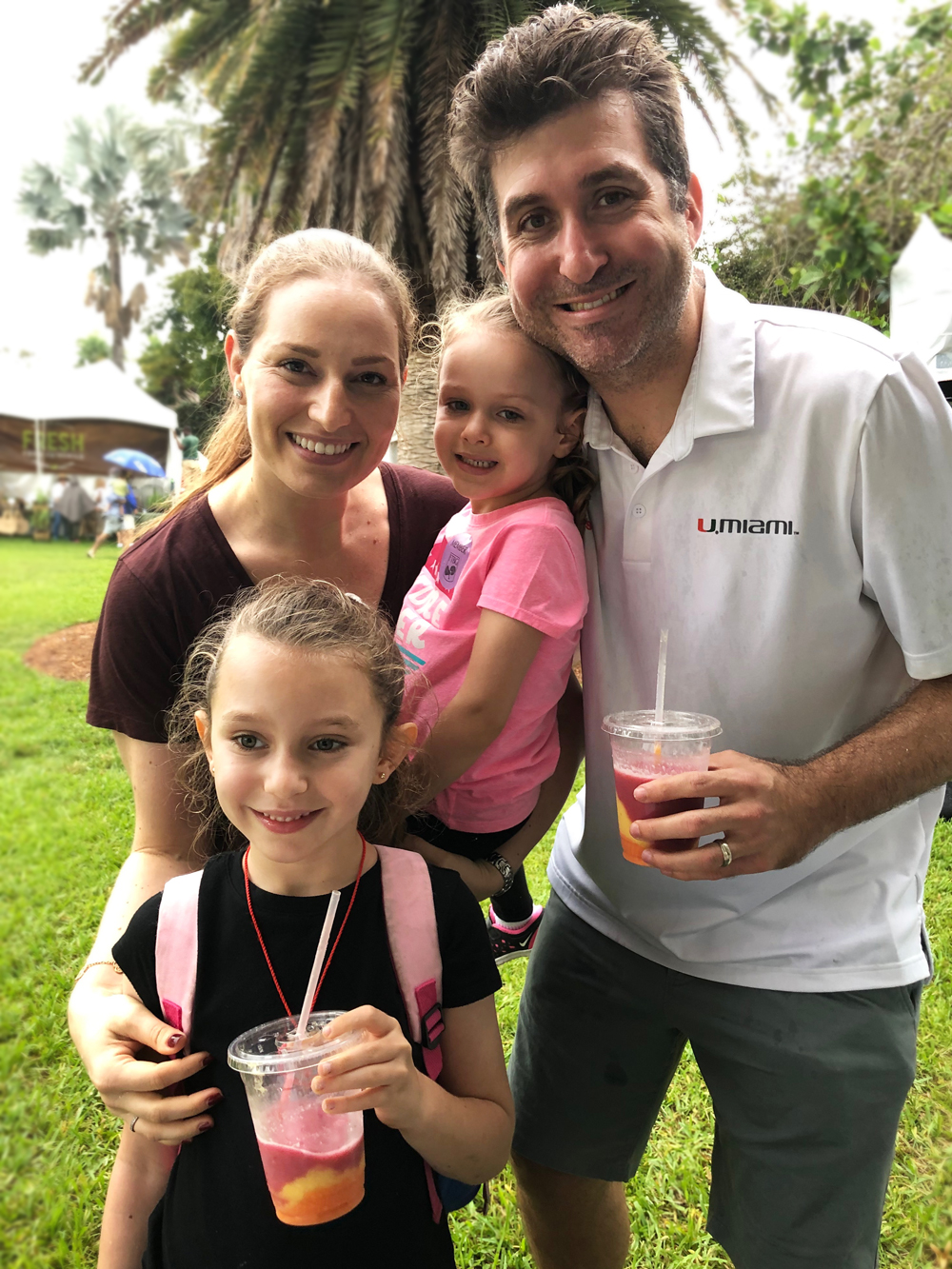 Ben
Name:
Ben Gerber
In what part of town do you live?
High Pines.
How long have you lived in High Pines?
Three years. And before that, North Gables.
Where did you grow up?
South Florida. In the Kendall area. I was born and raised in Miami. My father was born and raised in Miami. My grandfather came here when he was 18 and worked as a Telegraph operator and ran the beach concession at Tahiti beach where Coco Plum is today. My wife was also born here. She went to my rival high school, Palmetto. We knew each other loosely in high school and then ran into each other again in our adult lives.
What keeps you busy during the week?
I'm Vice President of Finance for a local real estate development company, called The Related Group. We build mostly residential housing throughout the Southeast and newly Southwest. We're probably best known for luxury condominiums. And, we're doing a fair amount in the affordable housing space. My job is mostly transnational in nature, capital fundraising, dealing with our equity partners and lenders, and negotiating agreements.
Do you have a favorite project that you've worked on?
The stuff that I find most interesting, I don't often get to work on. In the affordable housing space, we're doing some pretty big public/private deals with housing authorities in Miami Dade and Tampa. When we're doing the community programming around the project and thinking more about the social and community impacts, I try to sit in on those presentations, meetings, and discussions. I guess deep down in my heart, that's where I'm most inspired.
Could you share with us how you create a model to evaluate investment?
Thankfully I don't have to create the models anymore. I have analysts for that. We have multi-tab Excel models that are set up with logic and analysis around what drives the various types of projects. We collect a lot of data on our historical investments as well as what's going on with our current operating expenses and properties. There's a lot of levers to pull within the model, that can move numbers one way or another.
Do you think you could generalize the way you evaluate an investment to solving a situation outside of finance?
Yes, I'm a very logical, practical person. In the same way that a model can be multidimensional, in any situation, there's a lot of variables and things happening. And, taking a step back and trying to more broadly understand the situation, what might be affecting someone's behavior or something happening. I think it all sort of applies in the same way.
You've been at your job for a long time, what's the most fun part?
When I started, we were in the last cycle, it was boom time of condos in South Florida. There was less discipline in the market, and we had a lot of people coming through Related to put the company name on their resume. Now we're in a different cycle where investments in people are more thoughtful. We've been able to build a broader core team that have stuck with us and grown. When I started, I was one of the few young people. Now, it's nice to have a broader set of young people. Despite being here for 16 years, it's still interesting and there's a lot of learning opportunities and it's still very entrepreneurial.
What's the next neighborhood being developed in Miami?
The most interesting, dynamic, and active area right now is Wynwood. We opened our first multifamily project in the last couple months. It's done tremendously well. We have a few more projects slated in the neighborhood. There's a big office building going up now too. After Wynwood, there's a lot of interest in the Allapattah area.
Is it too late to get into Allapattah real estate?
It's expensive now, but it's all relative. There are opportunities at every point in the cycle depending on how you think about each situation and the opportunities that present themselves. If you have a vision, ultimately you can still buy land at a price, build the project, and make money on the development. As far as speculative land buys, I think that ship has sailed.
How often do you come to the Pinecrest market?
Two or three weekends a month. We had been going every weekend until our kids started Hebrew school on Sundays.
What's your ritual like when you come to the market?
First the smoothies. My youngest likes the rainbow and my older one tends to get straight Jackson. When you had the special MaMango, she mixed it up. Then, they love the pickles. Usually every other week, I get a new loaf of bread from Zak the Baker. My kids are enjoying the acai bowls. We'll get a granola here and there and then I'll taste some of Buster's kombucha. I've known Natalie (Buster's wife) for over 20 years and have been tasting his kombucha since he was brewing it in his closet at home. And, before he became a caveman.
What do you enjoy most about the market?
It's a nice community meeting place. My kids love the smoothies and we go to the park afterwards. But, I like having a place where you run into old friends, new friends, random people…and might see a cute dog. I went to school in the Midwest, and everyone was thoughtful and interactive and talked to each other. I feel like in Miami, most people are moving quickly and don't stop to say hello or let you in traffic. But, at the market, everyone slows down. No one's running past each other. Everyone's enjoying the moment and it's a nice break from the hustle of Miami.
What would make the market better? What's it missing?
The shade is starting to come back. Maybe some more local produce providers.
What's something you enjoy doing with your kids outside the market?
Swimming, walking through and exploring the gardens at Fairchild and the butterfly garden. Just watching them sort of explore.
Where do you all like to go out for food?
My kids love Sports Grill. It's right down the street from our house. I loved Scotty's, before it left us. I like something with a water view outside with a breeze where you can get a good fish sandwich. While you don't quite have the view, I like the patio at the Spillover, and they have music on the weekends.
Where might you and Kim go for a special occasion?
We'll usually go to River Oyster bar. It's kind of a go-back to our old days of being single and no kids. And if it's a nice weather night, we like going to Mandolin.
What's Miami's best kept secret?
Fairchild is one of the best kept secrets. No Name Harbor in Key Biscayne is a great spot that I don't think a lot of people know about. The steps on the backside of PAMM and the park downtown are way underutilized. It's just a beautiful setting to sit, relax and take in an afternoon.
What is a worthy splurge?
Travel. We're talking about spring break next year. We're looking to go back to Europe. We took them to London last spring break, and they had a phenomenal time. We're thinking Ireland or maybe, Spain, or Portugal.
What's a good rainy-day activity?
Netflix or an art project inside with the girls.
What do you like to do outside of work?
I grew up in Miami in the early eighties, so I'm a very big Miami Hurricanes fan. I have a group of guys that I've been going with to the games with for 16 years, since moving back. We do a tailgate every weekend and we usually do a guy's trip for one away game a season.
What community groups or philanthropic groups are important to you?
We do a lot with United Way. Kim's very involved. We think they do a phenomenal job evaluating and dispersing money within the community. Previously, I've been on community impact councils, which are subcommittees established with members of the community to score and evaluate the different nonprofits that they fund. You go through a training process to understand the rubric and grading system. You get to interview the CEO and CFO and visit the organizations and it's interesting.
Another one is Big brothers, Big sisters. We both, at one point in time, were a big brother and big sister for kids in the program. I think they're doing an excellent job with mentorship for kids in the community.
Where have you found community in Miami?
I'd say at our temple, Temple Judea. Particularly the preschool. It's been a nice mix of families and created a nice community for kids to get together.
Is there a question you would like to ask us?
Outside of the products you're producing on your farm, what are some of the great products that are made down here that aren't getting enough recognition?
(A+W) One of them we're going to be interviewing in a couple weeks. That's CAO chocolates. They are growing cacao and making chocolate. Their shop is off 98th street and US1. And Frice cream is now at our Sunday market which makes us very happy. They are making the best ice cream in Miami – and often use our fruit.
Is there a question you would like to ask the community or a challenge?
I used to go help at the Marathon and stand at one of the corner stations on the path making sure people didn't run the wrong way or into traffic. These people are running by and the people watching don't know the other person at all, but they are clapping for them and encouraging them. There's not enough of this empathy and encouragement for everyone else in Miami. How can we take a step back and realize the beautiful place we're in and cheer that person on who is running down the street?
Any final thoughts?
I appreciate greatly what you guys do. I can't imagine the amount of work that you guys put into packaging all that stuff. You guys are there every Sunday with a smile on your face and engaging with the patrons at the farmer's market. I think a lot of people who stand in your line and wait for the smoothies are there because they taste delicious, but also because they can see how much you guys care about what you're doing.
Thank you so much, Ben. Next week we're interviewing your wife. What should we ask her?
Ask, if she had a crush on me in high school.
(A+W) Alright, will do.
Highlights from our weekly newsletter, LNB Q&A
1. Select a Question for the Community