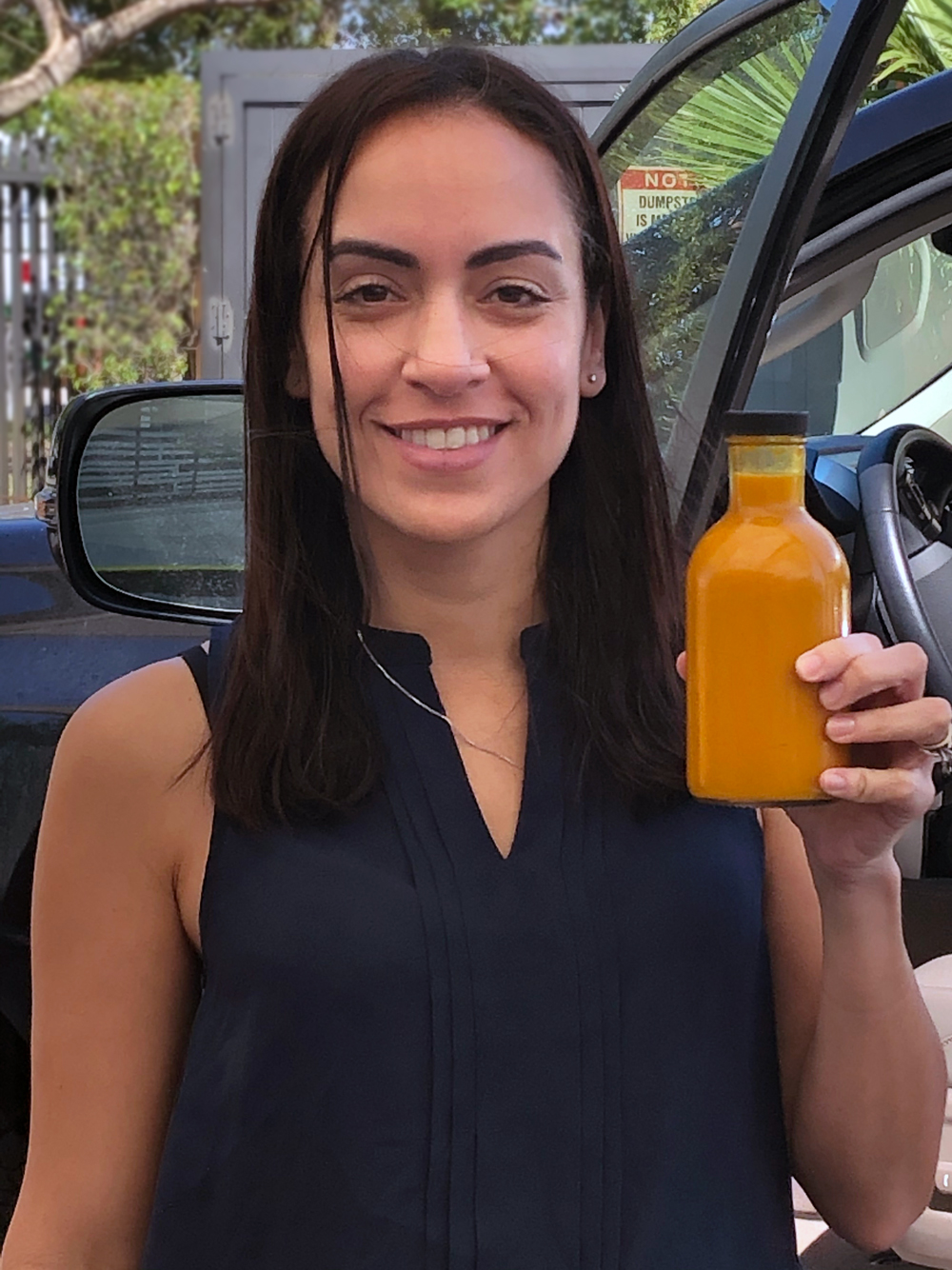 Vanessa
Name:
Vanessa

In what part of town do you live?
We live in Palmetto Bay.

How long have you lived in Palmetto Bay?
10 years now. Prior to that we were living in Kendall for about eight years.

Would you tell us a little bit about yourself?
I am born and raised in Miami, Florida. I am a local optometrist in the Pinecrest area. I've been practicing for 13 years. My life is dedicated to either optometry or to my family. That's pretty much it in a nutshell.

What led you on a path to optometry?
In high school I started working for an optometrist. It was my first job and I really just needed a job to have a little bit of cash. I started as a filing clerk. The owner of the office was an older man. He was a wonderful doctor. I loved the way he practiced. I loved his philosophy. He became my mentor. Through college and optometry school, I also worked there. The journey has been a really fun one because it's really full of a lot of love and devotion. That's pretty much how I got into this branch.

What was it about his philosophy that you were attracted to?
I guess in optometry, maybe you could have a philosophy based on the retail aspect, but he just really took a lot of time with patients. He never looked at the end of the day total. It was, 'if this patient has insurance and the insurance pays $40, well, it doesn't matter.  We're still going to spend an hour and a half with that person.' He gained a lot of popularity and a lot of love and devotion from other patients and he was successful.
I grew up in that field thinking that as long as you do what you think is right for the patient, success will come. It really has resulted the same way for us. I took that philosophy to different practices but it didn't really work. They had a different philosophy in place. So, I figured I'd rather just open up my own office. Thankfully, we've been open for seven years now and we've grown a whole lot.

Do you have a specialty within optometry?
I have two specific specialties. One of them being pediatrics and the other is specialty contact lenses. I've always been fond of kids, so it was an easy subspecialty for me. The exams are a little more challenging, especially with the little ones, but it is really fun. With the specialty contact lenses, it was something that I stumbled upon after graduation. The lenses are for people who are essentially legally blind with regular contact lenses. People with degenerative conditions get referred to the office for these types of lenses. It's rewarding to have someone come in, who is desperate to see better, and you change their life. Now they can drive or do certain things that they were never able to do before.

What is the difference in technology between a standard contact lens and specialty ones?
A standard soft contact lens is kind of a curtain that drapes over the front portion of the eye. It takes on the shape of your eye. If they drape over an irregular eye, you're still going to see irregularly. So, you have to create a lens that vaults the eye and takes on a different shape like a second window to the eye. Now the front portion of the eye becomes regular with this new lens.

Family takes up the rest of your time. Would you share a little about your family?
It's kind of like my other full-time job and I gladly do it. I have a four and a half year old, her name's Alyssa and she's a chatter box and requires a lot of attention. Our youngest, Jason, is two and a half years old and he keeps us a little busy, because he is on the spectrum. He requires a little bit more help, a little bit more therapy, a little bit more vigilance. Thankfully, he's had therapy since he was 18 months old, so he's really progressed and meeting his milestones, which we're really happy about. I have my wonderful husband, Michael, who you've already interviewed. He's the supportive rock of the whole entire family. We just like doing things together. We are pretty much always together. It's a blessing to have them.

You've been visiting us for years. What's the experience like now coming to the drive-thru?
I miss going to Pinecrest Gardens because it's a whole lot closer. But for us, it's really no big deal. We will travel because we just love your product. We love the turmeric tonic and derivatives like the little melts. It's made a world of a difference in our health. And, we love you guys.

How are you using the turmeric?
I've been using it a little bit less than Michael because I was pregnant twice and during my pregnancy, I didn't take the turmeric. Michael started about eight years ago and I started about four years ago. We both suffer from inflammation. He has Lichenoid dermatitis. I have a mild form of psoriasis. Taking it every day really keeps things at bay. We don't have outbreaks. It's really been a godsend. The minute that we stop for whatever reason for two or three weeks, we start getting flare ups. Michael starts getting one immediately and starts itching. It's a no brainer for us. It's a must. I tell everybody I can about it, because it really has been so helpful.

What other local restaurants or businesses do you all support in Miami that you can recommend?
For clothing, there's a small boutique near Pinecrest that's wonderful, called Indigo Republic. I love going there with Aly and just getting a few things. As far as restaurants, Guadalajara is a Mexican spot that's family owned that we enjoy. We also like Anacapri, the Italian spot. Those are our go-to places.

What's Miami's best kept secret?
Mesa Mar in the Gables for seafood. I get their tuna tataki and grilled octopus.

What for you is a worthy splurge?
For me, a worthy splurge would be to take just one day off for a health, mind, and body retreat. Go to a spa, do yoga, meditate, and focus on inward peace.

What community groups are important to you and your family that you might like to promote or share?
I am a fan of a group called 305 Pink Pack. It's founded by a good friend of mine, Rosemary Carrera. It's a nonprofit organization to help all women and men going through cancer that need some level of support, whether it be grocery shopping, helping with their children, or pretty much anything they could possibly need throughout their journey. I try to donate every quarter and promote them as much as I can. I think they have a beautiful intention and it's close to me because two friends have been diagnosed with breast cancer at a young age. I've seen their journey and how much it's changed them and how much they went through. This organization can touch many lives and make a lot of people going through hardship feel just a little bit better.

Is there a pitch about your business that you would like to share?
I think we're a little hidden gem. The minute that people walk in, there's a calm atmosphere. We don't have a lot of patients at once. We really devote ourselves to you from the moment you walk in to the minute that you leave. Every patient is extremely important.

What's the most often question you get as an optometrist?
Do I need to get dilated?

And? Do we?
Absolutely. There are a lot of things inside of the eye that we cannot see, unless those pupils are large. It's to make sure that the all-around health of your eye is intact.

How are we supposed to answer the difficult question, 'Does this one look better, Or this one?'
That typically means that we're in the range where we should be. When patients tell me it looks the same, that's typically the end point. So, it's actually a really good thing. A lot of people feel very pressured in that they have to pick one choice and that's actually completely incorrect. Telling us that it looks the same actually makes things easier because that means that we've reached our end point.  

What question would you like to ask us?
(VM) What's your future? What you want to do?

(A+W) We're figuring that out now. We're having a great time innovating. The new turmeric everything bagels are such a treat – to make and to eat. We've learned how to hand roll a NY-style bagel. The melts and smoothie cubes open the opportunity to launch ecommerce. We finally have a shippable turmeric and smoothie product. And, in the future, we'd love to bring production onto the farm so that it's a destination to come visit.

Is there a question or challenge that you would like to pose to the community?
Would it be nice to have like a section in Pinecrest that would be almost like a Downtown Pinecrest? I think that would be really neat. I think it would be wonderful for the community.

(A+W) Where would it be?

(VM) Maybe by Whole Foods? On the west side of the highway. A place where we don't have to travel very far and still go to a five star restaurant and safely go home.
Highlights from our weekly newsletter, LNB Q&A
1. Select a Question for the Community